There's no point in buying an expensive gun if you're not putting it in the right case. A lot of people compromise on gun cases and we can see why but, Man! Don't do it. Get a good case for your gun. This is especially useful when you're traveling via air either internationally or nationally, also during drives or any other activity that has anything to do with a vehicle, carrying one of these best gun case for air travel or local travel would be handy.
Hunters who prefer guns over bows need to travel a lot of places via air and it is crucial that you don't damage your beloved weapon on the process of traveling. The number of bumps that a gun can take on air travel is visible. They also have to face baggage handlers. Worst case scenario, the riflescope of your rifle can be totally damaged or perhaps your handgun's triggers? You might have to spend extra money to fix all the damage which would cost more than getting a good case. So, why not get a really sturdy case in the first place? The thing that most people fear is if they can choose the correct case and this is where we come in. We have compiled some of the best gun cases that you can buy for air travel and we are sure that these will serve you good.
Best Gun Case For Air Travel
The Pelican case 1170 is probably one of the best cases around. However, it comes with a catch and that is, the case is only meant for the Smith and Wesson M&P 9MM 45MM handgun, but it also accommodates a full size 1911. So, you can put your other guns here but it should have the same size and resemblance to the Smith and Wesson gun. Considering the build and customer satisfaction level, we have selected it as the best gun case for air travel.
Key Features
Has a really good quality polyurethane foam
The cuts are made by computerized CNC for a better fit
Rounded Corners supports Smith and Wesson Handgun
Pros & Cons
The product is marketed exclusively for one brand and that is the biggest downside to it. However, you can always modify the inner foam according to the size you need. For example, the box itself has the capacity of holding a full size 1911 which means you are no longer bound to one single gun size. The build quality is excellent and it is a TSA approved gun case which gives you the freedom to take your gun with you safe while traveling. Considering all these, it is the best gun case which gives you the mobility feature.
The Cedar Mill Firearms is a TSA certified gun case that has 2 locking points. The gun safe follows all protocols regarding the carry of guns on airplanes. It has got a really solid build with carbon fiber and has a water-resistant build that takes care of any accidental pouring.
Key Features
TSA and AIRLINE Certified gun safe that can be carried in an aircraft.
The case has a carbon fiber build and it is designed for strength and durability. It saves your guns from impact by decreasing the pressure per square inch(PSI).
The dimension of the gun case is (12 x 8 x 3,5) inches so, there is enough space to hold large handguns such as the desert eagle.
Replaceable Foam makes sure there are no scratches on your gun.
The presence of IP64 ratings means dust and water resistance. This feature can save the handgun from any damages like rust and jamming.
The company claims a hundred percent satisfaction guarantee backed by a lifetime warranty. You can also get a significant discount on the purchase.
Pros & Cons
If you have to carry multiple guns then this gun safe isn't what you're looking for. On the contrary, if you have a single gun and you just want your guns to have a safe flight then this gun safe is definitely for you.
The Case Club waterproof case, as the name suggests comes with waterproofing meaning you don't have to worry about accidentally spilling water on it. The case also has significant space to carry multiple guns and magazines. The internals of the case also makes sure that the gun safe doesn't scratch up the guns inside.
Key Features
Can hold up to 5 pistols and it has accessory pockets for 10 extra magazines, Silicon gel is included
The case sports a lifetime warranty
The company claims the case to be 100% Waterproof and Dustproof
The internal has a Foam insert that is a military grade polyethylene which can be wiped clean
The Case is approved by major Airlines Approved for luggage and padlocks
Can hold pistols of length around 8 to 9 inches
Pros & Cons
In this day and age, not many use revolvers. Pistols have replaced them altogether and this gun case is perfect for pistols. Even if you have 5 pistols, you can still carry them and you can also keep extra magazines if you want to. These small but crucial features make this case an instant sell. There are also many features like water and dust resistance. In addition, you get a lifetime warranty. The pros just don't seem to stop and this is why the Case Club gun case is one of our favorite gun cases. The case will fail to serve you only if you're an old-school guy who still shoots a revolver. There is nothing wrong with that but you need to look elsewhere for a gun safe that supports revolvers. Sadly this gun safe only supports pistols.
The SnapSafe combination lock box is a unique product that comes with a solid locking mechanism. Although the safe is fairly small, it provides security with technology. This safe can also be used to store other items such as documents and passports. The gun safe is affordable to buy and the company claims a really solid delivery system.
Key Features
The steel locks are high quality that uses a 3-digit owner-set combination entry.
You can protect your handguns, passports, sensitive documents, heirlooms, media cards, and other valuable items in a durable and portable fashion.
The gun safe is available in three sizes to suit your individual needs.
The company also offers a secured delivery.
Pros & Cons
The main drawback of the SnapSafe lockbox is that it isn't built with quality in mind. It seems like the manufacturers poured all their resources into safety while they forget about durability. Aside from that, the lockbox is decent. The safety features are the only huge plus point that makes the product considerable. It does, however, passes airplane protocol so, it kind of does its job albeit on a smaller scale.
The DAOE WT2100 case is a certified airplane case with a two-point locking mechanism. The case also features a watertight seal and a highly dense foam with rigidity in mind. This makes for a really impressive build. The design and the aesthetic of the case are also very unique. It can support 2 handguns and has a year of warranty.
Key Features
The case is approved by the TSA. It has a reinforced two-point locking system for airline travel
Dual Layered highest density foam, O-ring watertight seal, snap latches, fold-down handle
Consists of a hard-shell to deliver water-resistance and crush-resistance, keeps your valuable things secure even falling from a significant height
A portable tactical case that fits 2 full-size handguns.
Exterior Dimension: 13″ x 11.2″ x 5.1″, Interior Dimension: 12″ x 8.6″ x 4.7″.
Pros & Cons
This gun case, we must say, is just a small thing short of perfect. If only it had a secure lock. While the lock isn't that bad, it is nowhere on the level of some other gun safes in the list. Having said that, this gun safe crushes the competition in other areas like the build quality and design. It can also support two guns, a feature which is a plus point.
The Elephant EL5G is an imported product that nails a lot of things. First of all, the case has a really good resistance against all types of damage. The build quality is also commendable. Despite being sturdy, it is considerably lightweight and finally, the gun case is available at a surprisingly affordable price.
Key Features
The safe can Hold Up to 5 Guns and a whopping 18 Magazines
The gun safe is Waterproof, Dust-Proof and Rust Proof
Good design and a sturdy build. It is also Chemical resistant
The gun safe is Lightweight and consists of automatic Pressure equalization valve.
Imported Quality. The gun safe is an Italian Export
Pros & Cons
Expensive is actually an understatement here. It almost costs double than most of the bow sights in this list. There are a lot of people who wouldn't want to spend that much money on a gun case but the pros of this case are really worth it. It's got a design to show for and a really sturdy build that is lightweight. In addition to it, the case is water, dust, rust and chemical resistant so, the price here is justified.
Best Rifle Case For Air Travel
The Cedar Mill Hard Shell Rifle case is one of the best rifle cases out there which is certified by the TSA as well as most of the airlines. The technology involved here is also pretty new. The rifle case is approved by the authorities and the stainless steel build makes for a really sturdy design. It also comes with the IP67 rating so, that will keep the internals dry for you.
Key Features
The Rifle case is TSA & AIRLINE certified and consists of 2 locking points.
The build is DS3TECH RESIN and stainless steel which makes up for a crack and break free experience.
The dimension is 48x9x4 inches that can fit some of the largest rifles and shotguns. There is also replaceable foam that is affordable.
The case comes with an IP67 Rating that keeps dust and water out.
The company claims a 100% satisfaction and the case is also backed by a lifetime warranty
Pros & Cons
A rifle gun case needs to have an impressive locking mechanism, partly due to the fact that rifles are pretty big. This is probably the only flaw of this gun case. Not taking the locks into account, the case is pretty strong with a sturdy build and an impressive design. It is also available at an affordable price.
The Yongcun S08 is one of the best rifle cases that can support rifles of significant length. The case has strong polyurethane wheels with stainless steel bearing. The pressure inside the case is balanced and it is watertight. The stainless steel build makes for a solid construction too.
Key Features
Can support 42 inches rifle
Dark Black colour design with exterior dimension of 44.4″ x 16.0″ x 6.1″ and the Interior of 41.8″ x 13.5″ x 5.2″
The wheels have strong polyurethane with stainless steel bearings
The case is watertight, crushproof, and dust-proof
The automatic pressure equalization valve balances the pressure inside the case
Solid Wall design and padlock protectors.
Pros & Cons
The padlock system incorporated here is just decent. Other than that, the rifle case is perfect. It comes with a sturdy build, a beautiful black finish and pressure valves that keep the internal pressure balanced. The gun case is also supported by the airlines and authorities.
The Negrini compact rifle case features a really beautiful design with leather. Apart from the leather, it has polymer steel locks which are decent enough and the handle is also very sleek. The case is made with comfort in mind so it can be carried by almost anyone. In addition, the gun case is airline approved for travel too.
Key Features
Pros & Cons
While the design of the Negrini Compact is really beautiful, it does come with a significant flaw and that is the build quality. The company might have compromised on it and that results in a real letdown. On the bright side, the Negrini compact does have a beautiful design coupled with reinforced polymer/steel locks and is approved by the TSA. The compartment of the gun case can fit most single scoped rifles. The combination lock provided is also a good deal as it can be helpful to most.
Why Do You Need Specific Gun Case For Air Travel?
It all depends on the country. For instance, in America, the Transportation Security Administration(TSA) determines if your case is eligible and there are a certain set of protocols to follow for you to carry a gun. You cannot carry-on a gun with you though, it goes in the luggage. The airline can also determine whether your gun case is eligible or not. Don't forget that different countries have different rules but there are some general things that are similar over a bunch of countries that you need to take into consideration.
Some general rules are:
Read the Government or the Airline specified gun case requirement. It doesn't have to be a certain brand but it has to be a gun safe that meets the requirement specified by the authority.
You can carry scope with you but all other things including the ammunition go to the luggage.
The Gun Case you use should resemble a hard container and the gun you're taking must be unloaded.
The case should be lockable and only you can possess the key to the lock. In some cases, the lock you use should also be certified by the Airline or the Authority.
You need to declare your firearm at the ticket counter of the airline. Only then can you bring your gun.
By now, you have already checked out our selection of the best gun case for air travel that meets almost all requirements anywhere in the world.
What To Consider While Purchasing Gun Case For Air Travel
While traveling, it is essential that you pack your guns into the correct case. There are certain factors that you should consider before buying a case that you can take while traveling by air. These are briefly explained below.
Size
Don't use a case that's too big or too small. A forced fit can result in your guns to be damaged. So make sure you have a proper fit for your guns.
Locks
Some Airlines require you to use their proprietary locks while others have a certain requirement. Make sure you have a lock that passes all the test. Even if you don't have to follow these protocols, it's always nice to have a sturdy lock on your case.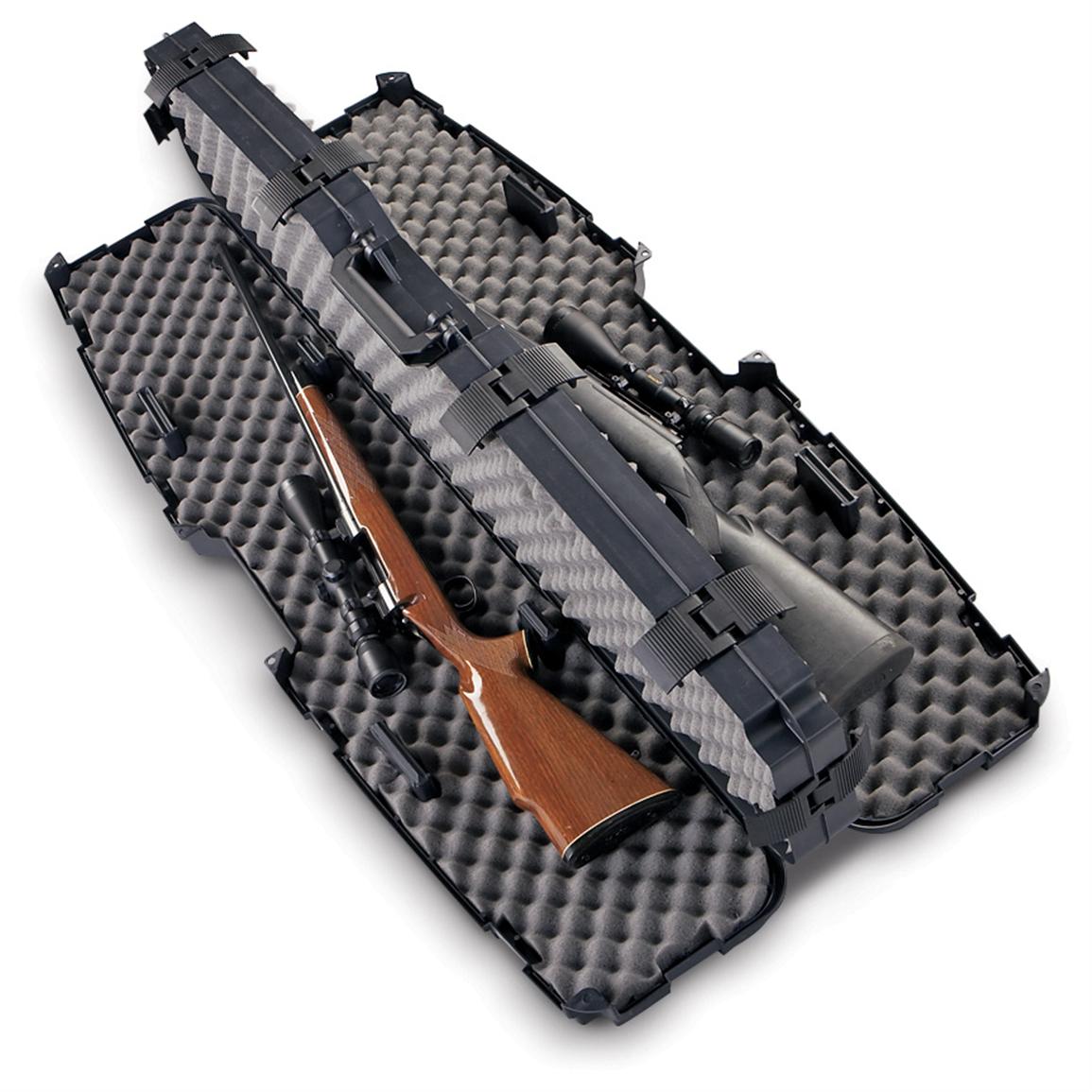 Handle
An extendable carrying handle can save you a lot of trouble. So, try to find a case with these kinds of handles. It will make it easier for you to carry your guns.
Waterproof
The case must be waterproof whether you're traveling or not. There are a lot of chances that water may accidentally spill over your case and guns can get rusted easily with water, therefore, get a waterproof case.
Foam Interior
Foam interior absorbs vibrations that arise while traveling by air. It also saves your guns from scratches therefore, a foam interior can be helpful for you.
Build
Your case can undergo a lot of shocks and impact at the airport. Therefore, you need to have a gun case that can withstand these impacts easily. You don't want to break your case as well as damage your gun in the process. Get a case with an impressive build quality and also account for the weight. You don't want a heavy case but you do need a sturdy case. It is also advisable to look for a case with crashproof protection.
Frequently Asked Questions
Q. Why should I purchase a gun case?
Ans. A gun case will protect your gun from unauthorized access. Your children might damage your gun and worse injure themselves so it's safe to lock your weapon on a safe. Larger weapons are prone to damage.
Q. Does a handgun need a case?
Ans. A handgun case is easily accessible so they can be stolen and used without you knowing it. A safe decreases the chances of this happening.
Q. Is a gun safe allowed in a flight?
Ans. Yes, only a Gun Safe is allowed. A gun safe with a gun should be kept in the luggage though.
Q. Does brand matter?
Ans. Traditionally, American brands have produced better gun cases than those of Chinese or other brands. It really depends on what you like, however.
Q. Cheap case or expensive case?
Ans. Balance is the key. You don't have to buy an over the top expensive case and don't be cheap and buy something for a dime. Get a balanced case that fits your budget.
Q. Do I need water and dust resistance?
Ans. Yes, dust can jam your guns whereas water can rust them. The resistance against these factors adds a layer of protection.
Q. Where to buy a gun case?
Ans. Online. There are many deals online and frequent sales are happening year around that will help you get a sweet deal.
Final Words
Gun cases are important when you're flying and there are plenty of choices. You need to first determine what kind of case is eligible which depends on the airline and other authorities in place. Once this is sorted, the next thing you need to do is get a safe that has a good build and features that matter. You don't have to spend a fortune on a gun case but getting a good case will save you money in the long run.
Last update on 2021-02-26 / Images from Amazon Product Advertising API.